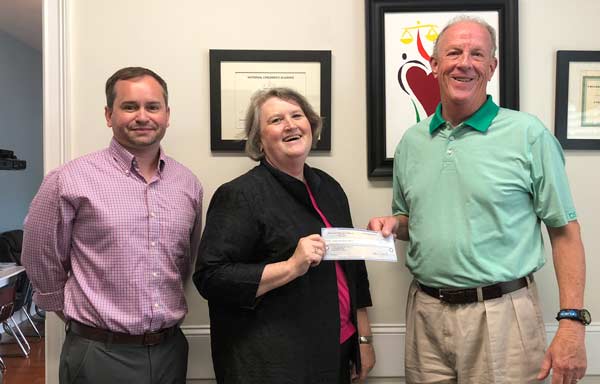 Mission
The Walton County Health Care Foundation, Incorporated, created by the sale of the Walton Medical Center, awards grants to promote health and delivery of health care to the residents of Walton County, Georgia, but only to the extent such purposes are charitable, scientific or educational, and believed by the Foundation to be economically sound.
Core Values
We strive to serve the public good.
We comply with all laws and regulations.
We are faithful to the intent of the founding documents.
We exercise prudent stewardship of resources.
We conduct our work with transparency and openness.
We treat others with respect, fairness and humility.
Statement of Principles
Our mission embraces the complex assemblage of issues contributing to personal health. A great deal of study continues to be done to identify health issues that affect the greatest numbers among us. Our primary goal is to find avenues that focus on prevention of these health related conditions. We realize that education and early intervention are key tools in addressing prevention.
Contingent with the sale of Walton Regional Medical Center to Health Management Associates was an agreement for HMA to build a new hospital facility in our community within five years and to continue to provide critical care at the facility. Site preparation for the new hospital occurred in April, 2008. We eagerly await the completion of the new Walton Regional Medical Center by HMA.
The Walton County Health Care Foundation also focuses on health care delivery. Our support of health care curriculum and teaching labs in our schools and colleges that train Walton County students should help to address the shortage of trained and professional health care providers and their support staffs.
Health care encompasses a complicated, diverse, and ever changing set of challenges and issues. As we move forward, the Foundation will continue to seek partnerships and to identify viable initiatives with proven track records where our support might propel these efforts to a higher level of success. These are exciting times for Walton County! This Foundation will be working in the background to stimulate growth and innovation surrounding the quality of life in our community.
A Center of Hope Pregnancy Resource Center
A Child's Voice Child's Advocacy Center
Camp Twin Lakes
Cancer Foundation of NE Georgia
Carver Middle School
FISH MD
FISH4KIDS
Fourwinds Ministry Village
GSU Newton Campus
Loganville Christian Academy
Loganville Fire Department
Loganville Lions Club
Monroe Country Day School
Monroe Downtown Dev. Authority
Monroe Fire Department
Monroe Walton Center for the Arts
Project Renewal
Shepherd's Staff
Social Circle Fire Department
Team Up Mentoring
Unbridled Joy
Unlimited Services
Walton County Chamber of Commerce
Walton County Emergency Medical Services
Walton County Health Department
Walton County Parks and Recreation
Walton County Resource Court
Walton County Senior Citizens Council
Walton County Sheriff Department
Walton Wellness

Walton county health care foundation inc